investor-state disputes | ISDS
investor-state disputes | ISDS
Investor-state dispute settlement (ISDS) refers to a way of handling conflicts under international investment agreements whereby companies from one party are allowed to sue the government of another party. This means they can file a complaint and seek compensation for damages. Many BITs and investment chapters of FTAs allow for this if the investor's expectation of a profit has been negatively affected by some action that the host government took, such as changing a policy. The dispute is normally handled not in a public court but through a private abritration panel. The usual venues where these proceedings take place are the International Centre for Settlement of Investment Disputes (World Bank), the International Chamber of Commerce, the United Nations Commission on International Trade Law or the International Court of Justice.
ISDS is a hot topic right now because it is being challenged very strongly by concerned citizens in the context of the EU-US TTIP negotiations, the TransPacific Partnership talks and the CETA deal between Canada and the EU.
Le Desk | 22-Sep-2023
La société espagnole réclame 407 millions d'euros au Maroc, soit pas moins de 4 milliards de dirhams.
St. Vincent Times | 22-Sep-2023
Grenada government in talks with developers to resume major hotel project after a resolution to their dispute.
Junior Mining Network | 22-Sep-2023
Winshear Gold Corp. reports that pursuant to the company's arbitration case against the Republic of Tanzania, the company and Tanzania have suspended arbitration proceedings and have reached a conditional settlement agreement.
L'Echo | 20-Sep-2023
Quatre oligarques russes entendent contester la nationalisation d'une banque en Ukraine. Pour cela, le siège de la banque étant un holding luxembourgeois, ils veulent passer par un traité belgo-luxembourgeois.
CIAR Global | 19-Sep-2023
Los arbitrajes de inversiones contra Honduras siguen saltando a la actualidad del sector en el ámbito internacional.
Romania-Insider | 19-Sep-2023
The final amount requested by Gabriel through interest recalculation has doubled, reaching USD 6.5 billion.
Cinco Días | 18-Sep-2023
APM Terminals Barcelona inicia un proceso de conciliación después de que la Justicia anulara el contrato de adjudicación para gestionar la terminal.
CIAR Global | 14-Sep-2023
La compañía española APM Terminals Management Barcelona ha presentado una solicitud de conciliación con Guatemala en el Centro Internacional de Arreglo de Diferencias relativas a Inversiones (CIADI).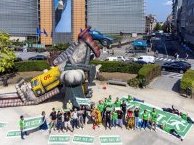 The Guardian | 14-Sep-2023
Eleven countries have already pledged to exit the disastrous international charter treaty. We must join them.
Maghreb Intelligence | 14-Sep-2023
L'entreprise de construction de Marina d'Or réclame 400 millions d'euros pour deux projets ratés de création de deux villes satellites à Rabat et Tanger.