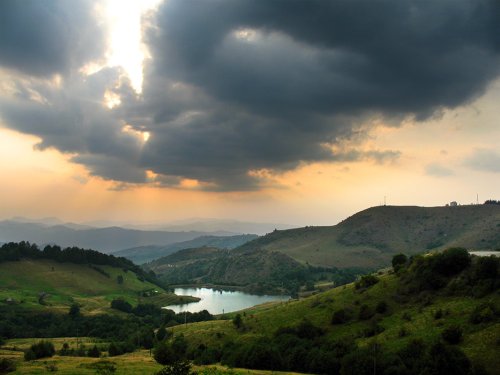 Reuters | 29 June 2017
Canada's Gabriel Resources to seek $4.4 bln in damages from Romania
By Susan Taylor
Gabriel Resources Ltd will seek $4.4 billion in damages from Romania for losses related to its long-stalled Rosia Montana gold mine project in a claim that the Canadian miner plans to file Friday with a World Bank Tribunal.
Gabriel, whose project has been in the works for 18 years, will argue that Romania violated several investment treaty provisions in its claim to the bank's International Centre for Settlement of Investment Disputes.
The miner's project, near the village of Rosia Montana, was expected to produce 500,000 ounces of gold annually over 16 years of operation, making it Europe's largest gold mine.
"The issue we've had in Romania is the project has been over-politicized. Politics has got in the way of progress," Chief Executive Jonathan Henry said in a phone interview.
The government withdrew its support for the project in 2014, striking down a bill to allow the development after nationwide protests by thousands of people across the country in 2013.
The mine, which would dig four open pits, is 80.69 percent owned by Gabriel with Romania's state miner holding the remaining 19.31 percent.
Civil rights and environment groups opposing the mine argued it would destroy ancient Roman mining shafts in the Rosia Montana village, its surrounding hillsides and pose an environmental risk from the cyanide used to process ore, a normal industry practice.
Gabriel filed a request for arbitration with the World Bank in 2015, but it said the government had not responded to its notice of dispute or request for arbitration.
"We are claiming that Romania has expropriated our project and we are left with no alternative but to seek compensation," said Henry.
Gabriel, which has invested some $700 million in Romania, was first granted an exploration licence in June, 1999. With no other mines, Gabriel will decide its plans after the case concludes. A hearing is scheduled Sept. 9 to 20, 2019.
The project has potential to generate $24 billion for the country's economy, Gabriel estimates.
First a mining district more than 2,000 years ago, Rosia Montana has suffered from "severe environmental degradation," Gabriel argues.
Romania, a member of the World Bank and European Union, is one of Europe's poorest countries, despite rich natural resources including gas, coal and gold.