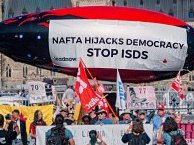 The North American Free Trade Agreement (NAFTA) was comprised of Canada, Mexico and the United States. It came into effect in 1994 and was the first trade agreement among developed countries to include investor-state dispute settlement (ISDS) provisions.
Over 20 years later, Canada became the third most sued developed country in the world. Of the 77 known NAFTA investor-state disputes, 35 have been filed against Canada, 22 against Mexico and 20 against the US. American investors have won 11 of their cases and the US never lost a NAFTA investor dispute or paid any compensation to Canadian or Mexican companies.
Canada has paid American corporations more than US$200 million in the nine cases it has lost or settled. Besides, Canada has spent over US$65 million in legal fees, regardless of the cases' outcome.
Most NAFTA arbitration disputes involved challenges to environmental protection or resources management that were claimed to have interfered with the profit of US corporations.
NAFTA was recently renegotiated and replaced by the US-Mexico-Canada Agreement (USMCA), which was signed on 30 November 2018. The ISDS mechanism between the US and Canada, and between Mexico and Canada has been removed – even though it is included in the TPP, to which both countries belong. New procedures replace the ISDS between the US and Mexico. Expansive rights for investors are mostly terminated. Only limited claims are allowed after exhaustion of local remedies. But the ISDS mechanism has been maintained between the two countries for claims pertaining to Mexico's oil and gas sector.
The most well-known cases include:
• Ethyl (US) vs. Canada: case settled in 1998 for US$13 million paid to the US chemical company, in compensation for the ban of the toxic gasoline additive MMT. The ban was also lifted.
• Metalclad (US) vs. Mexico: US$16.2 million awarded in 2000 to the investor, a waste management corporation, for not having been granted a construction permit for a toxic waste facility.
• Loewen (Canada) vs. United States: the dispute over a funeral home contract was dismissed on far-fetched procedural grounds in 2003.
Photo: Obert Madondo / CC BY-NC-SA 2.0
(March 2020)
El Economista | 13-Mar-2023
El próximo 1 de julio fenece el plazo para presentar solicitudes de solución de disputas bajo las reglas del TLCAN, toda vez que a la entrada del vigor del T-MEC, en julio del 2020 se fijó un plazo de transición de tres años para dar cabida al trámite de posibles inconformidades comerciales de los gobiernos de los países socios del tratado o de sus inversionistas.
Radio-Canada | 13-Mar-2023
La demande des promoteurs de GNL Québec et de Gazoduq, qui réclament une indemnisation de 20 milliards de dollars américains au gouvernement du Canada, suscite des questions aux yeux de certains experts.
Rosa Luxemburg Stiftung | 8-Feb-2023
Investor rights in the expired North American Free Trade Agreement continue to undermine democratic decision-making and climate policy in Mexico, Canada, and the United States.