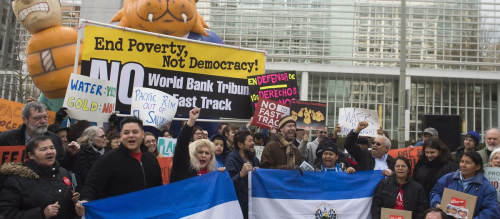 Reuters | 19 April 2017
El Salvador freezes OceanaGold bank accounts, assets over $8 mln payment
El Salvador froze bank accounts and assets belonging to OceanaGold Corp after the mining company refused to pay the country $8 million as mandated by an international court, the Attorney General's Office said on Tuesday.
Last year, El Salvador won an arbitration at the World Bank's International Center for Settlements of Investment Disputes (ICSID) against the Australian-Canadian mining firm, which sought $250 million from the Central American nation for revoking an extraction permit.
In its ruling, ICSID ordered OceanaGold to pay $8 million to El Salvador for legal fees. OceanaGold refused, according to the Attorney General's Office.
OceanaGold could not be reached for comment outside of regular business hours late on Tuesday.
The asset freeze was authorized by the Supreme Court to ensure payment compliance.
It includes three bank accounts valued at nearly $200,000, seven vehicles and nine properties located in the municipality of San Isidro Cabañas, 70 kilometers (43.5 miles) northeast of the capital, where the company carried out exploration projects.
The Salvadoran Congress passed a law in March that prohibits any type of metal mining for the purpose of protecting natural resources.