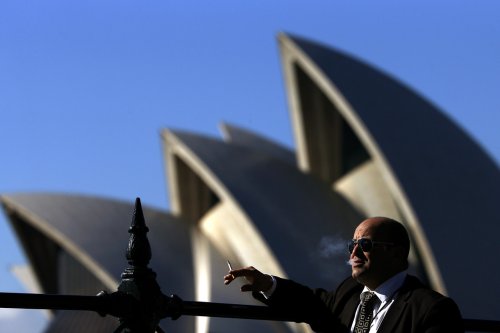 Wall Street Journal | 15 October 2014
Indonesia challenges Australian cigarette packaging laws
World Trade Organization says decision on dispute won't be made until at least 2016
By ROB TAYLOR
CANBERRA, Australia—Indonesia joined four other tobacco-producing nations in challenging Australian health laws requiring tobacco products to be plainly packaged to make them less appealing, in the latest dispute between the two neighbors.
Indonesia, along with Cuba, the Dominican Republic, Honduras and Ukraine, is challenging the Australian laws at the World Trade Organization, with the Geneva-based trade umpire this week saying a decision on the issue wouldn't be made until at least early 2016.
"Australia has introduced this plain-packaging act without proving scientifically that the measure will be effective and that no better alternative exists," Indonesia Trade Ministry director-general Bachrul Chairi said in a statement coinciding with the lodging of Indonesia's complaint, according to the Jakarta Post newspaper.
Indonesia earlier this year told cigarette makers to start putting graphic warnings on cigarette packaging, in an effort to reduce smoking in the world's third-largest cigarette market.
Australia in 2012 became the first country in the world to introduce laws restricting logos, branding, colors and promotional text on tobacco packets in a bid to cut smoking rates, infuriating big tobacco companies like Philip Morris , British American Tobacco PLC and Imperial Tobacco Group PLC, who argue they infringe on intellectual-property rights covering brands and work to restrict trade.
Philip Morris Asia Ltd. has served a notice of arbitration to the government under Australia's bilateral investment treaty with Hong Kong, while countries like Indonesia and Cuba worry the laws could set an international precedent.
Britain and several other countries are closely watching efforts to challenge the Australian initiative, which was introduced by the country's former Labor government and continued by the current ruling conservatives following last year's elections.
Britain's government in April said all tobacco products should be sold in unbranded packaging similar to Australia's and adorned with graphic health warnings, with legislation possibly introduced before the U.K. general election in May 2015. In the U.S., plans for ultragraphic health-advisory labels on cigarette packs have been met with strong opposition from the tobacco industry.
Australia and Indonesia have a history of prickly relations and in August signed an intelligence agreement aiming to soothe a long-running diplomatic spat over cross-border spying. In 2012, a dispute over animal welfare briefly halted lucrative Australian live cattle exports to its neighbor.
Mr. Bachrul said it was in Indonesia's interest, as the world's sixth-biggest producer of tobacco products, to join the challenge to the Australian laws and predicted substantive litigation would begin in May next year, after all the nations involved in the dispute had a chance to consider the case and make submissions to the WTO.
Australia's Health Minister Peter Dutton has repeatedly said Australia won't back down on measures to reduce smoking rates. Australian researchers have found smoking declined by 15% between 2010 and December 2013, as the plain-pack policy was announced and implemented, although tobacco companies have challenged the findings.
Write to Rob Taylor at rob.taylor@wsj.com