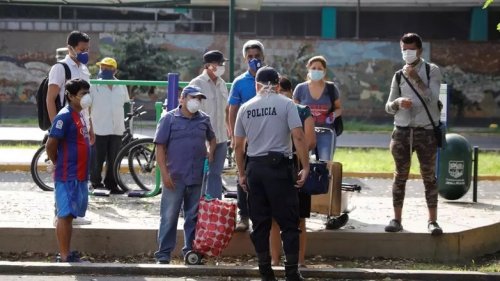 Latin Lawyer | 15 April 2020
Peru warned of potential ICSID claims over covid-19 measures
by Cosmo Sanderson
Peruvian officials have warned that a proposed emergency measure suspending the collection of toll fees on the country's road network in response to the outbreak of covid-19 could result in multiple International Centre for Settlement of Investment Disputes (ICSID) claims.
Verónica Zambrano, the president of Peruvian transport regulator Ositran, told local media on 7 April that a bill recently passed by Congress was "unconstitutional" and could result in ICSID claims from six concessionaires that manage toll roads across the country.
Zambrano said Ositran would present its observations on the bill to the Peruvian cabinet.
Peru's Congress approved the bill last week, with 100 votes in favour and nine abstentions. There were no votes against. The bill is designed to ease the transport of essential goods or workers at a time when many Peruvians have lost their income.
The bill has now been passed along to Peru's president Martin Vizcarra, who can object to it or ask for Congress to amend it. Congress has the power to overrule any objections the president may have.
In one of his now daily addresses to the nation, Vizcarra said that he agreed with the bill, although it is unclear whether he will propose amendments.
There are 74 toll roads in Peru, 24 of them run by a state-owned company which has already suspended fees. The operators of a further 32 toll roads have also done this voluntarily. The concessionaires who run the remaining 18 tolls have been asked to communicate with Peru's ministries of transport and economy.
Zambrano is not the only one to warn of the potential legal fallout from the bill. Peruvian congressman and lawyer Alberto de Belaunde, who is a member of the minority Purple Party, has also warned that concessionaires could bring ICSID claims over unilateral changes to their contracts.
He said that all concessionaires should have suspended the collection of fees of their own initiative.
Another parliamentarian, Luis Simeón Hurtado, has argued Peru is exempt from responsibility as it is in a state of emergency.
Pablo Mori Bregante, a Peruvian senior associate at US disputes boutique GST, says the bill is ambiguous as to the duration of the measures. The bill proposes to suspend toll charges during the "state of emergency", but Peru has declared two of these: a health emergency declared on 11 March for 90 days; and a state of national emergency declared on 15 March, which has now been extended until 26 April. While reasoning attached to the bill refers to the health emergency, he says this is something that "needs clarification".
Mori observes that some of the latest bilateral investment treaties – including the Canada-EU Trade Agreement (CETA) – contain exceptions allowing states to "take measures aimed at protecting human life or health," as long as they are not arbitrary or discriminatory, "without implying a breach of international law." He says the China-Australia Free Trade agreement goes further, providing that non-discriminatory measures implemented for "legitimate public welfare objectives… shall not be subject of a claim"
There are also "state of necessity" or "state of distress" defences under customary international law. However, Mori says that Argentina's experience trying to argue the necessity defence in cases arising from its 2001 financial crisis shows that application of this doctrine is "generally so narrow that it might hardly apply," and established that a state "must show that it took the only measure available to it."
Mori says that the concessionaires may also have ICSID clauses in their concession contracts, as is common in Peru, and could therefore bring contractual claims instead of or in addition to investment treaty claims. In contractual claims, he says international law defences might not have the same effect as contractual breaches may be judged by different standards.
Ultimately, "it all will depend on the provisions of the specific bilateral investment treaties (BITs) and the specific concession contracts."
He adds that while the Organismo Supervisor de las Contrataciones del Estado (OSCE), an agency attached to the Peru's Ministry of Economy and Finance, announced that the state of emergency constitutes a force majeure event, this only applies to contracts governed by the state's Public Contracting Law, and not investment contracts such as concession contracts or public private partnerships.
This "might also have some international law implications" and raise issues of potential discrimination, says Mori.
Toll investors in Peru include a subsidiary of France's Vinci Highways, which is currently bringing a contractual claim against the Metropolitan Municipality of Lima at the International Arbitration Chamber of Paris, a dispute which recently saw an intervention from a Peruvian criminal court.
In 2018, former subsidiary of Brazil's Odebrecht filed a United Nations Commission on International Trade Law (UNCITRAL) claim against the municipality over the government's decision to revoke a toll road concession.
At ICSID, the state is currently facing a US$100 million contractual claim from a Spanish construction company over delays to a project to improve a stretch of the Pan-American Highway. Last month, it defeated a US$123 million BIT claim at the centre from another Spanish company that insisted it was given exclusive rights to operate vehicle inspection services in the Lima metropolitan area.
Peru has currently around over 4,300 confirmed cases of coronavirus and over 100 deaths. The state closed its borders on 16 March and recently began enforcing strict emergency measures under which men are only allowed to leave home on Mondays, Wednesdays and Fridays, and women on Tuesdays, Thursdays and Saturdays. No-one is allowed out on Sundays, when supermarkets, pharmacies and all other outlets are closed.
Last month, Massimo Benedettelli and other lawyers from ArbLit in Milan wrote an article for Latin Lawyer's sister publication Global Arbitration Review considering whether emergency measures passed by Italy and other states to prevent the spread of coronavirus could result in treaty claims.