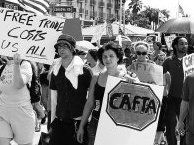 El Tratado de Libre Comercio entre Centroamérica, Estados Unidos y República Dominicana (conocido como CAFTA-DR, o CAFTA, por sus siglas en inglés) fue firmado en 2004 e incluye a los países centroamericanos de Costa Rica, El Salvador, Guatemala, Honduras, Nicaragua y la República Dominicana. Los mecanismos ISDS especificados en el CAFTA le proporcionan a las compañías estadunidenses, medios privilegiados para desafiar las leyes nacionales y reclamar millones de dólares en compensación en sus disputas en Centroamérica. (Estados Unidos sólo ha sido desafiado una vez y el caso sigue en disputa.
Para finales de 2019, el CAFTA se invoco en 11 casos.
Los casos más conocidos incluyen:
• TCW (EUA) vs República Dominicana Rica: caso arreglado en 2009 por 26.5 millones de dólares al inversionista, una corporación de administración de inversiones.
• Railroad Development Corporation (EUA) vs. Guatemala: 18.6 millones de dólares se concedieron en 2012 al inversionista en una disputa relativa a un contrato de ferrocarriles.
• Pac Rim Cayman LLC (EUA) vs. El Salvador: En 2008, El Salvador negó un permiso de minería a Pac Rim (ahora Oceana Gold) debido a preocupaciones ambientales, sobre todo los impactos sobre los recursos acuáticos. En 2012, el tribunal de arbitraje desechó la jurisdicción del CAFTA pero asumió la ley de inversión local. En octubre de 2016, el tribunal decidió que el caso no tenía mérito
Foto: Danny Hammontree / CC BY-NC-ND 2.0
(marzo de 2020)
CIAR Global | 19-dic-2022
A principios de noviembre de 2022, el Grupo Próspera informó de la reclamación de 10.775 millones de dólares por daños y perjuicios ante la eliminación de las ZEDE.
Inequality.org | 6-dic-2022
Local resisters are calling for a different economic model — one that prioritizes clean water and soil, healthy communities, peace, dignity, and self-determination.
Proceso Digital | 4-nov-2022
"En septiembre recibimos notificación de la nota que entregó ZEDE. El tema es que a más tardar el 16 de diciembre tienen que meter solicitud e iniciar el arbitraje", el ministro de la Secretaría de Desarrollo Económico dijo.
The Real News Network | 3-nov-2022
US senators argue that abolishing special economic zones known as ZEDEs would violate the provisions of CAFTA-DR, including the provision ensuring "fair and equitable treatment and full protection and security."
Sierra Nevada Ally | 28-jul-2022
However, locals feel latent tension that the imminent consultation process or the arbitration suit could revive earlier threats, violence, and legal persecution from company employees and contractors.
CIAR Global | 18-may-2022
La cementera estadounidense Sargeant Petroleum ha presentado un arbitraje de inversiones contra República Dominicana por un contrato de concesión de materiales asfálticos.