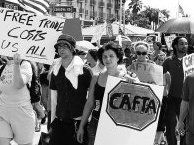 L'Accord de libre-échange entre l'Amérique centrale, les États-Unis d'Amérique et la République Dominicaine (CAFTA-DR ou CAFTA en anglais) a été signé en 2004. Y sont signataires : le Costa Rica, la République dominicaine, le Salvador, le Guatemala, le Honduras, le Nicaragua et les États-Unis d'Amérique.
Le mécanisme de règlement des différends investisseur-Etat (ISDS en anglais) prévu dans le CAFTA a accordé aux multinationales états-uniennes le pouvoir de contester des lois nationales et de réclamer des millions de dollars en compensation aux gouvernements d'Amérique centrale. Les Etats-Unis ont été ciblés une fois seulement (litige en cours).
A la fin de 2019, le CAFTA a été invoqué dans onze affaires d'arbitrage.
Parmi les litiges les plus connus :
● TCW (US) c. République Dominicaine Rica : règlement à l'amiable de 26,5 millions de dollars américains en faveur de l'investisseur, une société de gestion de placements (2009)
● Railroad Development Corporation (US) c. Guatemala : l'investisseur a obtenu 18,6 millions de dollars américains suite à un litige sur un contrat de transport ferroviaire (2012).
● Pac Rim Cayman (US) c. El Salvador : En 2008, El Salvador a refusé de fournir un permis d'extraction minière à Pac Rim (maintenant OceanaGold), du fait de problèmes environnementaux, et notamment l'impact sur les ressources d'eau. En 2012, le tribunal d'arbitrage s'est déclaré incompétent au titre du CAFTA-DR, mais compétent en vertu de la loi nationale sur l'investissement. En octobre 2016, le tribunal a rejeté la demande de 250 millions de dollars US de la compagnie.
Photo : Danny Hammontree / CC BY-NC-ND 2.0
(mars 2020)
Inequality.org | 6-déc-2022
Local resisters are calling for a different economic model — one that prioritizes clean water and soil, healthy communities, peace, dignity, and self-determination.
Sierra Nevada Ally | 28-jui-2022
However, locals feel latent tension that the imminent consultation process or the arbitration suit could revive earlier threats, violence, and legal persecution from company employees and contractors.