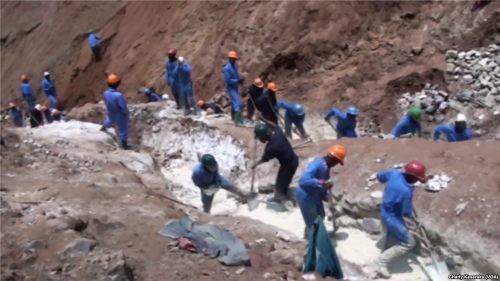 Reuters | 20 February 2018
Congo's Kabila yet to sign new mining code as deadline nears
by Aaron Ross
Democratic Republic of Congo's President Joseph Kabila has not yet signed into law a new mining code, a senior aide said on Tuesday, as international mining companies wage a last-ditch lobbying effort against the measure.
The comments by Jean-Pierre Kambila, Kabila's deputy chief of staff, come amid uncertainty about whether the president intends to sign the new code, which raises taxes on miners, or whether he might let the bill become law without his signature.
Under the constitution, the president has 15 days from the time parliament sends him the bill to either sign it into law or return it to parliament for further deliberation. If he takes no action, the bill automatically becomes law.
It is unclear what day the president received the bill from parliament but Mines Minister Martin Kabwelulu said at a conference on Feb. 7 that the code was "with the president".
That would give Kabila until Thursday at the latest to act. Asked about this, Kambila told Reuters: "The law has not been promulgated. That's all I can tell you."
International mining companies in Congo, Africa's largest copper producer, include Randgold, Glencore, China Molybdenum and Ivanhoe.
They are lobbying Kabila not to sign the new code, saying the proposed changes would discourage investment and violate existing agreements. Randgold has threatened to challenge the law through international arbitration.
The code could see royalties on cobalt, a vital component in electric car batteries, increase five-fold to 10 percent and it removes a stability clause in the current law protecting miners from changes to the fiscal and customs regime for 10 years.
Congo is the world's biggest source of cobalt, of which its output jumped 15.5 percent last year to 73,940 tonnes.