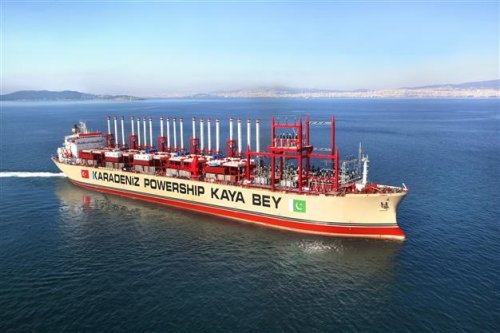 Business Recorder | 31 January 2020
Rental power: Government submits dispute settlement documents to ICSID
By MUSHTAQ GHUMMAN
The dispute between Turkish company M/s Karkey Karadeniz Elektrik Uretim and Government of Pakistan (GoP) is said to be reaching its conclusion as Islamabad has submitted dispute settlement documents to International Centre for Settlement of Investment Disputes (ICSID), well-informed sources told Business Recorder.
On January 29, 2020, Economic Coordination Committee (ECC) of the Cabinet decided to waive off all port charges and dues estimated at Rs 195 million against Karkey as of January 31, 2020 or till the vessels leave the port on the recommendations of Ministry of Maritime Affairs.
The sources said waiver of charges was also part of the deal between the Government of Pakistan and M/s Karkey. However, Power Division denied any deal.
According to sources, Ministry of Maritime Affairs had disallowed power ships of M/s Karkey for recovery of demurrages but after the deal, the Government of Pakistan had to allow the ships to leave the Pakistani waters/ territory.
"Pakistan had to allow the power ships to leave the Pakistani waters prior to signing of final settlement agreement with the Turkish company," the sources maintained.
M/s Karkey Karadeniz Elektrik Uretim was also due to submit documents to ICSID about the settlement agreement with Pakistan, however, it's not clear whether it has submitted the documents or not.
The government of Pakistan has claimed time and again that Turkish President, Recep Tayyip Erdogan has played a key role in resolution of dispute with M/s Karkey. On November 4, 2019, Prime Minister Imran Khan, in a tweet had disclosed that the PTI government with the help of President Erdogan, has amicably resolved the Karkey dispute and saved Pak USD 1.2 billion penalty imposed by ICSID.
However, on December 19, 2019, a high-level government team comprising Minister for Power and Petroleum, Omar Ayub Khan, Attorney General for Pakistan, Anwar Mansoor Khan, Secretary Power, Irfan Ali, Joint Secretary (Power Finance), Zargham Eshaq Khan and a couple of senior officers of an intelligence agency visited Istanbul (Turkey) to finalise agreement with Turkish government and M/s Karkey Karadeniz Elektrik Uretin .
Unconfirmed reports suggest that the final settlement agreement will be inked during the forthcoming visit of Turkish President to Pakistan which is expected in the next few days.
Pakistan's team exchanged its draft agreement with Turkish team's draft and prepared a consensus document which will again be shared with the federal cabinet for approval before presenting it to the ICSID, the sources added.
The documents have already been shared with the federal cabinet, after which the envelope was sealed.
On August 22, 2018, ICSID awarded against GoP along with interest thereupon. Subsequently, Karkey went into enforcement of arbitration award of about $ 900 million against Pakistan in various jurisdictions including the USA, UK, Germany and France.
M/s Karkey had set up 'world's biggest' ship-mounted Rental Power Project (RPP) at Port Qasim, Karachi, pursuant to the Rental Power Policy 2008, announced by the then government of Pakistan (GoP). M/s Karkey entered into Rental Services Contract (RSC) on April 23, 2009 for generation of electric power with the Lakhra Power Generation Company Limited (LPGCL). Pursuant to the terms of the RSC, the GoP issued a sovereign guarantee to secure payment obligations of LPGCL and Karkey achieved commercial operations in April 2011. In the meanwhile, the Supreme Court in exercise of its original jurisdiction initiated suo motu proceedings against RPPs and through its detailed judgment of March 30, 2012, declared all RSCs void ab initio, being illegal and against public policy. The Supreme Court also directed National Accountability Bureau (NAB) to carry out an investigation under the NAB Ordinance 1999.
The government, sources said, has also assured M/s Karkey that NAB will not take any adverse action against it.