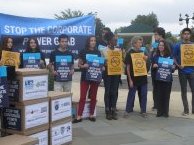 Canadá y Estados Unidos han firmado más de 180 acuerdos internacionales de inversión. Ambos son parte del Tratado de Libre Comercio de América del Norte (TLCAN), con México. Con el TLCAN se lanzaron 67 disputas inversionistas-Estados. Ahora el TLCAN se renegoció y se convirtió en USMCA o T-MEC como le dicen en castellano. Todavía falta que entre en vigor pese a haberse firmado en noviembre de 2018. Se han retirado los mecanismos de arbitraje de disputas entre Estados Unidos y Canadá y entre México y Canadá —aunque siguen incluidos en la Asociación Trans-Pacífica a la que Canadá y México pertenecen. Entre Estados Unidos y México se aceptan solamente demandas acotadas, una vez que se agotaran los remedios locales. Pero el mecanismo ISDS se mantiene entre ambos países en lo que tenga que ver con el sector del gas y el petróleo.
Estados Unidos es también parte del Tratado de Libre Comercio de Centro América y Republica Dominicana (TLCCA-DR o CAFTA) con 6 estados centroamericanos. Los inversionistas estadounidenses han iniciado 11 disputas con el CAFTA.
Canadá ha firmado un Acuerdo de Promoción y Protección de la Inversión Extranjera (FIPA por sus siglas en inglés) con China y el Acuerdo Económico y Comercial Global (CETA por sus siglas en inglés). El CETA incluye mecanismos revisados de ISDS, un sistema de cortes jurídicas de inversión, que han sido criticadas por no responder al núcleo de los problemas centrales que subyacen a este mecanismo.
Los inversionistas estadounidenses han usado extensamente el mecanismo de arbitraje de disputas entre inversionistas y Estados ISDS de todos estos tratados. Ha iniciado cerca de 180 disputas, más de 17% de todos los casos conocidos, haciendo que sea el Estado sede de inversionistas demandantes más frecuente. EUA no ha perdido nunca un litigio ISDS.
Por otra parte los inversionistas canadienses han iniciado unas 35 disputas y Canadá es el segundo blanco más frecuente entre los Estados desarrollados (y el quinto a nivel global).
Los inversionistas canadienses han iniciado 50 disputas y Canadá es el cuarto objetivo de tales disputas entre los Estados "desarrollados" (es el noveno a nivel global) con 29 casos.
Foto: Public Citizen
(abril de 2020)
The Zimbabwe Mail | 2-jun-2023
ZIMBABWE continues its fight in the United States (US) to block enforcement of a US$277 million arbitration award to a German and Swiss family which stems from the country's controversial land reform programme.
McCarthy Tétrault | 31-may-2023
Direct remedies may be available to Canadian miners under the CPTPP in relation to the changes to Mexico's mining laws.
Romania-Insider | 26-may-2023
Canadian company Gabriel Resources, the majority shareholder of the developer of the blocked gold mining project in the Apuseni Mountains, seeks to raise up to USD 4.75 mln from investors with a private placement.
The Conversation | 23-may-2023
US$20 billion: That's how much American investors think Canadian taxpayers should fork over to compensate them for their failed bid to develop a liquefied natural gas facility in Québec.
El Libertador | 5-may-2023
Un grupo de 33 congresistas estadounidenses, ha solicitado al secretario de Estado de EE.UU., Antony Blinken y la representante de Comercio, Katherin Tai, que se apoye la defensa de Honduras ante la abusiva demanda interpuesta por la ilegal ZEDE Próspera, propiedad de Erick A. Brimen, que busca cobrar a los hondureños 11,000 millones de dólares.
The Ecologist | 12-abr-2023
UK accession to Pacific trade deal empowers fossil fuel firms to sue governments.