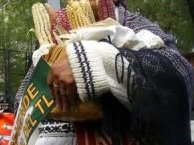 Le mécanisme de règlement des différends investisseur-Etat (ISDS en anglais) est inclus dans la plupart des accords de commerce et d'investissement. Il accorde aux investisseurs étrangers le droit de contester les lois et les régulations nationales concernant l'agriculture et l'alimentation.
Fin juin 2019, environ 4% du total des arbitrages effectués au CIRDI concernait le domaine de l'agriculture, la pêche et la foresterie.
Parmi les cas les plus célèbres :
• Corn Products International (US) c. Mexique : en 2009, CPI, producteur de sirop de maïs riche en fructose, un édulcorant lié à l'obésité, a obtenu 58,4 millions de dollars américains. L'investisseur contestait au Mexique une taxe sur ce sirop (ALENA invoqué).
• Cargill (US) c. Mexique : en 2009, un tribunal arbitral a ordonné au Mexique de payer 90,7 millions de dollars américains à l'investisseur, un géant de agro-alimentaire, des suites d'un conflit sur la même taxe sur le sirop de maïs riche en fructose mentionné ci-dessus (ALENA invoqué).
• Micula (Suède) vs. Roumanie : la multinationale suédoise d'agro-alimentaire a obtenu 250 millions de dollars américains en 2013, suite à l'annulation de primes versées par le gouvernement roumain afin qu'il se conforme à la législation européenne (TBI Roumanie-Suède invoqué).
Photo : Indymedia Mexico
(mars 2020)
Foreign Policy in Focus | 16-mar-2023
Corporations are using trade and investment treaties to handcuff global and national efforts to save the planet. Resistance to the corporate-friendly trade architecture has come from many corners of the globe.
El Economista | 24-jan-2023
La USTR dijo que funcionarios estadounidenses continúan trabajando con sus homólogos mexicanos para abordar las "graves preocupaciones" con las políticas de biotecnología de México.
The Monitor | 11-jan-2023
This week's North American Leaders' summit is soured by dubious challenges to Mexican food and energy sovereignty.
América Latina Mejor sin TLC | 1er-nov-2022
La Plataforma América Latina Mejor Sin TLC presenta el segundo número de la serie "Debates Urgentes". En este caso se trata de un material elaborado por Ecuador Decide Mejor Sin TLC.
bilaterals.org | 5-jui-2022
Lettre publique de la société civile méxicaine, européene et internationale, 4 juillet 2022
bilaterals.org | 5-jui-2022
Statement of the Mexican, European and international civil society, 4 July 2022